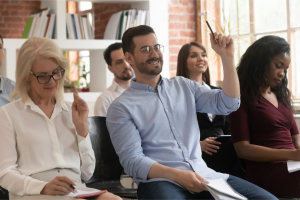 It has become increasingly popular for small businesses and entrepreneurs to rent offices or conference rooms in MA. Many are also beginning to use these spaces for training purposes. Small businesses, startups, and new entrepreneurs often do not have commercial office space, but it is important that their employees are trained, professional, and fully skilled. Here are some terrific points on how renting conference rooms for training can benefit your team.
Affordability
Commercial spaces are expensive to buy, and the costs of purchasing technology, furnishings, and equipment for the training spaces are other significant expenses. If you rent conference rooms or fully functional training spaces, it will be at a fraction of the cost.
Professional Image
If you want to make a good impression on employees and clients, you need to use professional spaces. Rented training and conference rooms are professional environments that will help your startup or small business present the professional image you want to project.
Secondary Services and Amenities
The best-rented conference rooms and training rooms for rent offer secondary services and amenities, including administrative help, equipment, mailbox services, and access to other areas, such as kitchens or lounges.
Contact us today to learn more about the spaces we have available for your team.